AES donate jerseys to local county finalists after their set had been stolen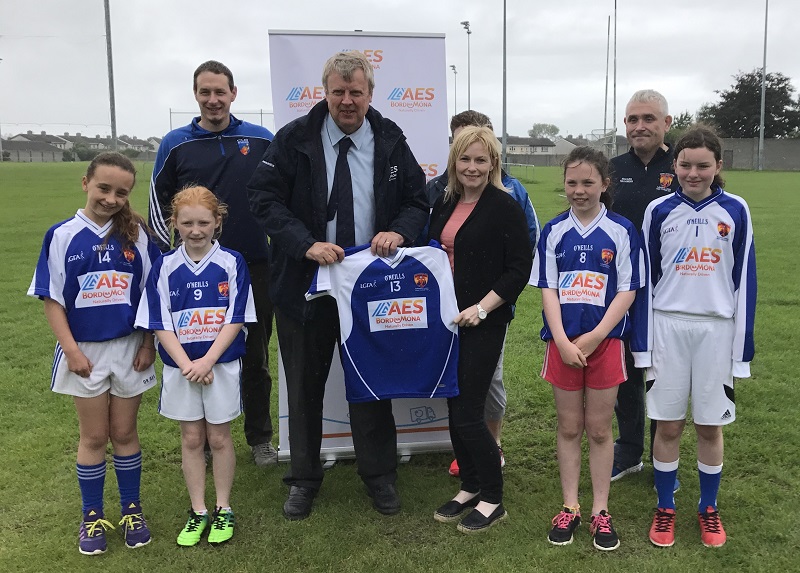 Tullamore Ladies Gaelic Football Club were delighted recently to receive a new set of under 12 jerseys from AES Bord na Móna, after their original set was stolen and destroyed.
After becoming aware of the horrendous circumstances of the stolen jerseys, AES approached the club wishing to help and offered sponsorship of a new set of jerseys along with a generous donation.  The jerseys were recently presented to the clubs Secretary Deirdre Power by Ciaran Brady, Head of Resource Recovery Bord na Móna.
Speaking at the presentation, Ciaran Brady said "We are honoured to be able to help out the U12 ladies team and club. It is appalling that their previous jerseys were stolen, and then also set on fire. After speaking with the team it was inspiring to hear how these young ladies continued to train and play with such strong spirit and determination.  On behalf of all at AES, we hope our contribution is of help to the team and wish them every success in the future."
"We were devastated when we found out our jerseys had been stolen and burned. Everyone at the club has put in a lot of work to coach the young girls and bring them to matches etc." said club chairman Graham Daly.
"To find out on the morning of a county final that our jerseys were missing, and then later to discover that they had been so badly damaged, was a real blow," he said
"However, since the incident we have been overwhelmed by the outpouring of support from the local community and beyond. Our Go-Fund me campaign was a huge success and AES Bord na Móna generously sponsoring the jerseys is a huge boost to us.
"Anyone involved with underage teams knows the amount of work involved, and how hard it is to fundraise to provide equipment and gear," he said. "We are very grateful to AES and the many other businesses and people in our community, who came forward with donations and pledges of support – it means so much to us," said Graham.