AES raises €80,000 for Irish Children's Charities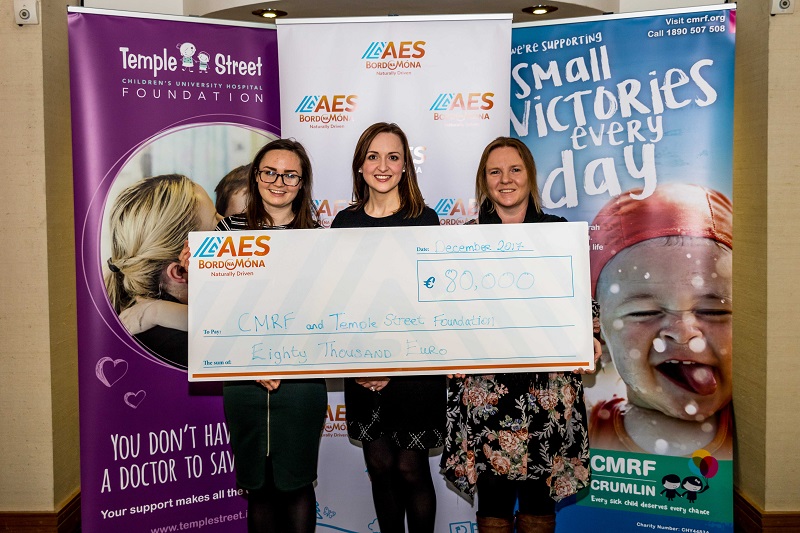 We'd like to thank the AES customers for helping us raise €80,000 in 2017, which was split equally between Our Lady's Children's Hospital, Crumlin and Temple Street Children's University Hospital.
Since 2014, over €265,000 has been raised for the children's hospitals by donating 1% of all AES online bill payments of €20 or more.
This money has funded the new Urodynamics testing room for Temple Street Children's University Hospital. This is a vital room within the Renal Outpatients Unit used by thousands of patients with kidney problems.
Speaking on this achievement Denise Fitzgerald, CEO at Temple Street Foundation, states "The funds raised through our partnership are transforming children's lives for the better every single day.  With your support we have been able to fund an Urodynamic Testing Room in our New Renal Outpatient Unit which means children come to a comfortable, child-friendly clinical room for specialist treatments."
In Our Lady's Children's Hospital the donations has contributed to the renovation of St. John's Oncology Ward and has enabled the completion of the Inflammatory Bowel Disease (IBD) Ward. Rachel Kenna, Director of Nursing at Crumlin Hospital comments of the difference this funding has made for patients of the IBD ward "Some of the patients who were then receiving care on the old unit, have said there is no comparison. The privacy, the space, the comfort and access to an en-suite facility when they are so unwell have all really helped in dealing with their illness and, more importantly, the road to recovery."
A special thank you to all of the AES customers for their donations as they are making a difference to the lives of little patients and their families.