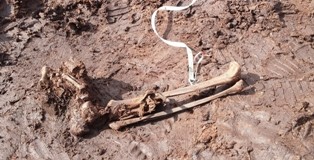 A Bord na Móna employee has discovered a partially intact body at Rossan Bog in Co Meath during horticultural peat production.
The discovery was made during regular milling activity which was halted immediately and reported to the National Museum of Ireland as part of Bord na Móna's Code of Practice.
The partial remains consisted of an adult leg, foot bones and flesh, which were preserved under oxygen free conditions in the bog.
Archaeologists and conservators from the museum investigated the site before moving the remains for further analysis to the laboratory at Collins Barracks, Dublin. This research will help identify the gender and age of the body, as well as the nature of the death and time period.
A similar body was found at Rossan Bog, two miles outside Kinnegad in 2012. The body was radiocarbon dated to between 700 and 400BC and the location is thought to be the site of an ancient territorial boundary.
Bord na Móna will continue to work with the National Museum of Ireland on this new finding, publishing future updates once analysis is completed.
For more information about the story of Bord na Móna, our heritage and history, visit the Heartland website and Facebook Page.