Bord na Móna acquire 50% of Smart Grid Tech Company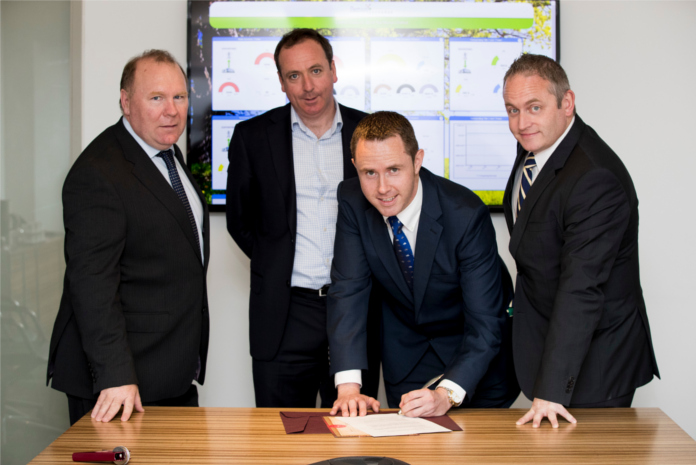 Bord na Móna has acquired a 50% share of Electricity Exchange, a leading provider of smart grid technology and services. The Company, co-founded by Dr. Paddy Finn and Mr. Duncan O'Toole, operates a virtual power station from its 24hr operations centre in Limerick. The company's technology allows them to remotely control back-up generators and reduce power consumption in large industries throughout Ireland at times of power shortages on the grid. Bord na Mona, a pillar in Ireland's energy industry, identified Electricity Exchange as an emerging leader in the Smart Grid Technology space.
Speaking today at the signing of the agreement, Mike Quinn, CEO, Bord na Móna stated: "Bord na Móna Powergen have a significant development pipeline of renewable projects and we see the Electricity Exchange technology as an enabler to allow greater renewable penetration onto the Irish Electricity grid. The power system is evolving at a fast pace and Electricity Exchange has a track record of constant innovation which allows them to stay ahead of the curve. They have built a reputation as an honest company that works hard for their customers which aligns perfectly with the ethos of Bord na Móna."
Mr Quinn continued "We have been watching Electricity Exchange continually raising the bar in the areas of smart grid and distributed power systems. The next generation technology, IoTAS, will allow us to take this to another level and will offer a multitude of benefits including frequency response services that are critical for grid operators looking to increase the share of renewable generation on the power system. Working together will allow us to deliver exciting new services to our combined customer bases and create new opportunities going forward."
This distributed generation model operated by Electricity Exchange delivers additional power generation to the grid without the need for additional infrastructure, avoiding the cost and carbon emissions associated with building new conventional power stations. Having launched a second Virtual Power Station this week, Electricity Exchange has overtaken competitors to become the second largest player in this maturing market.
"We work hard on behalf of our clients and deploy our latest technologies on their sites to deliver the best possible service to them and to the power system. Our technology solutions create significant payments for large energy users in Ireland", Mr. Duncan O'Toole, Commercial Director, Electricity Exchange.
Ireland's power system faces unique challenges in pursuit of delivering 40% of electricity from renewable energy sources by 2020. Unlike the majority of its European counterparts, as an island, Ireland has limited opportunity to borrow from neighbouring countries when its own power generation falls short. The variable nature of wind, from which we derive the majority of our renewable electricity generation, requires vigilant power system management in order to maintain security of electricity supply.
"This investment comes at an exciting time for the company and we are looking forward to accelerating our growth, expanding into other markets, and delivering the technologies necessary to make Ireland a Smart Grid exemplar in partnership with Bord na Mona" Dr. Paddy Finn, Managing Director, Electricity Exchange.