Bord na Móna and Coillte announce landmark biomass supply to Edenderry Power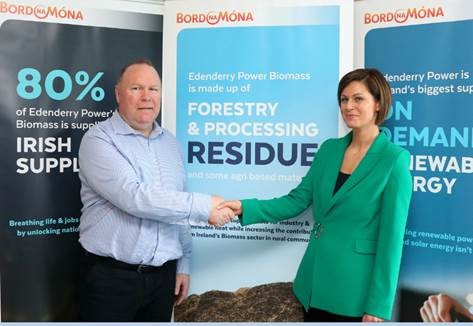 Pictured above: Tom Egan, Manager of Bord na Móna Powergen Operations, with Clodagh O'Reilly, Sales & Supply Chain Director at Coillte.
Bord na Móna and Coillte are pleased to announce the landmark supply of 240,000 tonnes of residual biomass from Coillte that will be provided to Edenderry Power over the next three years. This will help Edenderry Power to strengthen its position as the largest renewable on-demand electricity generator in Ireland.
Tom Egan, Head of Powergen Operations and Bioenergy at Bord na Móna, stated: "Sustainably produced biomass will play a key role in Ireland's transition from a fossil-fuel based economy to a low-carbon economy, helped by the Edenderry Power plan to be supplying 100% renewable energy by 2024.
He added: "We at Edenderry Power are proud of our record in securing biomass from Irish suppliers and particularly welcome this landmark arrangement with Coillte. We are trying to maximise our supplies from within Ireland and these supplies from Coillte are a very significant addition to our existing valued Irish supplies, as well as those from new Irish suppliers which we are looking to partner with going forward."
Clodagh O'Reilly, Sales & Supply Chain Director at Coillte, said: "We recognise that Bord na Móna is on an exciting journey from fossil fuels to renewable energy and we are very pleased to be working with them. While the vast majority of our timber is used for the creation of timber products, this residue material has limited alternative use and provides a valuable fuel source. We also recognise the value in contributing to the economic growth agenda in rural Ireland as well as towards important environmental targets – common objectives to both Bord na Móna and Coillte."