Community Conservation Project provides lifeline for iconic Red Grouse and Curlews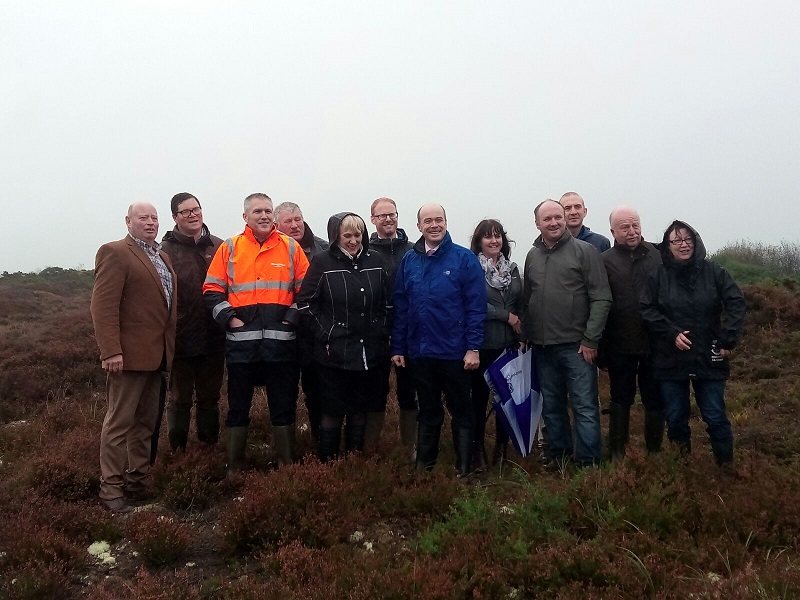 Bord na Móna and the Community of Ballydangan, Co Roscommon are celebrating the remarkable achievements of a project that has conserved populations of Red Grouse, Curlew and other species of national significance.
Ballydangan Bog, which is owned by Bord na Móna, has been the focus of a joint company and community conservation effort since 2010. Their efforts in controlling predators and rewetting the bog have conserved a population of the iconic and rare Red Grouse and helped the endangered Curlew flourish on the bog. Since the Project began, the bog has become a national hotspot for Curlews.
Speaking at the event Minister for Communications, Climate Action and Environment Denis Naughten TD said "The Red Grouse Conservation Project is an exemplary model of the success that can be wrought from the local engagement by the State and State companies. The environmental benefits of the hard work of all involved here are wide ranging, but perhaps most significantly from a Climate Action perspective, a blueprint is provided for unlocking the carbon sequestration potential of our nations boglands."
Also speaking in Moore Hall, Ballydangan, Minister for Culture, Heritage and the Gaeltacht, Heather Humphreys TD said "Raised Bogs like Ballydangan Bog are important natural eco-systems and host a wonderful array of native species.  I am delighted that the local community, supported by Bord Na Móna, are undertaking efforts to conserve the 'Heather Hen' (Red Grouse), a Red-listed Bird of Conservation Concern in Ireland, and one of Ireland's most iconic bogland species. Bord Na Móna's  work in rehabilitating this bog and other raised bogs in Ireland is critical for the retention and diversity of Ireland's unique habitats and species amongst other benefits ".
Welcoming the two Ministers on behalf of Bord na Móna, Head of Business Transformation and People Officer Joe Lane said "It is terrific that Minister Denis Naughten and Minister Heather Humphreys are both here to commend the wonderful work done by Bord na Móna and the local community. With a conservation project like this you need a lot of people working together and because this partnership had the support of the local community and gun club we were able to ensure Ballydangan bog is a wonderful safe haven for wildlife of national significance.
We had a few goals here, one of which was to protect the Red Grouse, Hen Harrier and Curlew populations and I delighted to say we have achieved this. We wanted to preserve the active raised bog habitat that existed here and we have achieved that. We also particularly wanted to demonstrate to other communities the rich dividends that can accrue from this kind of eco activity. I would encourage others to see what was achieved here and get a sense of what a terrific amenity these places are for a community."
Speaking on behalf of the community, Dr David Scallan said "We are immensely proud of the work and achievements of everyone who contributed to the success of the Ballydangan Bog project. I look forward to meeting with people from other communities who might want to replicate what we have here."