Guaranteed Irish Announces Ambitious Membership Targets during Meeting with An Taoiseach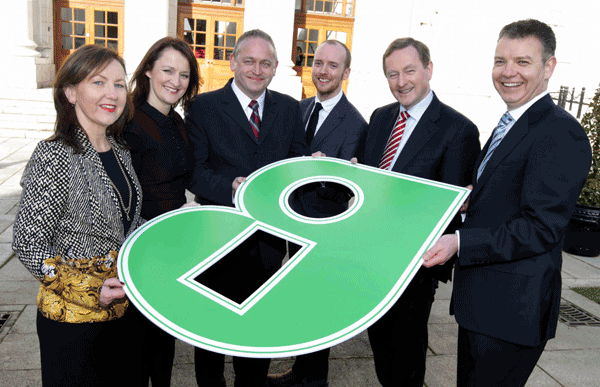 The business organisation Guaranteed Irish has unveiled ambitious membership targets and a programme of public engagement activities during a meeting with An Taoiseach, Enda Kenny TD.
During the meeting, Guaranteed Irish CEO Brid O'Connell said the organisation plans to triple its membership over the next two years. Guaranteed Irish currently has 300 members, with plans to grow to 500 by the end of this year, and 1,000 by the end of 2018.
A number of Guaranteed Irish members attended today's meeting with the Taoiseach, including representatives from Gem Pack Foods, Tegral, Irish Country Hotels, Bord na Móna, MSD and Showoff.
At the meeting, Ms. O'Connell said: "Over the past six months, Guaranteed Irish has undergone a rebrand and plotted out ambitious targets for the coming years. We now place equal emphasis on attracting both homegrown enterprises and international companies operating in Ireland as members, who generate quality jobs and are proud of their provenance.
"We are open to members throughout the island of Ireland, and will be undertaking specific campaigns with companies that have a base in Northern Ireland in the coming months.
"We have put in place a new appraisals process for membership applications: all companies applying are carefully vetted and must demonstrate they meet core criteria around jobs, provenance and community, and are committed to creating a better Ireland."
Membership Profile
Ms. O'Connell said Guaranteed Irish members currently generate 30,000 jobs within the Irish economy.
A quarter of the organisation's members are in the construction, energy and manufacturing industries, with 20 per cent in the food industry. The proportion of members across other economic sectors is as follows:
Pharma: 10 per cent.
Tech: 10 per cent.
Hospitality: 8 per cent.
Finance: 2 per cent.
Others (including lifestyle, crafts and design): 25 per cent.
"During 2017, we are specifically targeting the tech, pharma, agriculture and design sectors for new members," said Brid O'Connell. "We have been meeting companies nationwide and engaging with them through our public activities and events. We are getting a hugely positive response from companies, who undoubtedly see the economic value of highlighting their Irish links."
An Taoiseach
Speaking at this morning's event, An Taoiseach, Enda Kenny TD, said: "The image of Ireland, with its products and services, is synonymous with excellence and innovation. I'm delighted that the ambitious growth plans of Guaranteed Irish will promote and protect our national image.
"I welcome the organisation's new strategic direction and programme of public engagement activities. The Government is committed to working alongside Guaranteed Irish and the SME sector to support businesses in Ireland and ensure companies continue to wear their Irish identity and roots as a badge of honour. It has served us well."
Public Engagement Activities
Throughout 2017, Guaranteed Irish will run a programme of a public engagement activities aimed at attracting new members, raising the profile of existing members, and encouraging the wider public to support companies that contribute positively to Ireland's economy and society. Activities taking place during the year include:
Guaranteed Irish Heroes Awards: during 2017, Guaranteed Irish will award six exceptional individuals who have demonstrated a commitment to creating a better Ireland. The first Guaranteed Irish "hero" – for the arts sector – was announced last month, with the award going to the artist Maser. The organisation is currently calling for nominations for the sports hero category, with plans to award "heroes" from science, music, technology and food later in the year.
Schools initiative: in the coming months, Guaranteed Irish will launch a schools initiative, matching Transition Year students nationwide with local businesses, with the aim of producing creative videos to profile businesses at community level.
Business ambassadors: some of the highest-achieving individuals from Guaranteed Irish member companies will be selected as ambassadors for the organisation. They will play a key role in mentoring other members, recruiting new members and raising awareness of Guaranteed Irish within their own sectors and regions.
"Our public engagement activities aim to showcase the fantastic contribution our members make to life in Ireland," said Brid O'Connell. "At the same time, they aim to engage the public – and the next generation of consumers – in supporting businesses that demonstrate a true commitment to their local communities.
"Our Guaranteed Irish Heroes campaign has received a great response since it was launched last month, and we look forward to rolling out our schools and business ambassador programmes in the months to come."
Further information about Guaranteed Irish is available at: www.guaranteedirish.ie.