Irish peatlands central to a new EU-funded climate action initiative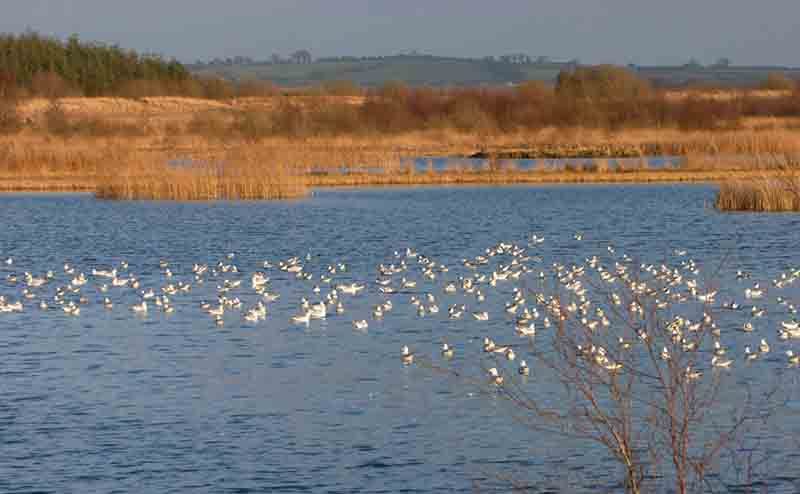 The European Commission is to fund €10million towards a Peatlands and People project which will highlight the power of peatlands to effect significant climate action wins.
Today is World Wetlands Day, which aims to raise global awareness of the importance of wetlands, including peatlands, for people and our planet. This project is a major national initiative that has won funding support from the European Commission which will contribute to the long-term implementation of Ireland's Climate Action Plan. It will engage people in Ireland and across the European Union with the benefits of peatlands restoration, and in particular, to realise the power of peatlands to effect positive climate action.
The project follows closely after Bord na Móna commenced a major peatland rehabilitation initiative with the support of climate action funding from the Irish Government. Bord na Móna has recently called a permanent end to peat harvesting as it moves to become a climate solutions business focused on renewable energy, peatland rehabilitation and recycling.
Coordinated by Bord na Móna, together with National Parks and Wildlife Service (of the Department of Housing, Local Government and Heritage), the Environmental Protection Agency, National University of Ireland Galway and ERINN Innovation Ltd, with additional co-financing from Department of Agriculture, Food and the Marine, the project will work with peatlands in Ireland's midlands and the communities around them to deliver capacity and support related to a low-carbon economy.
The project will establish:
A Peatlands Knowledge Centre of Excellence in Ireland that will explore and carry out best practices in peatland restoration and rehabilitation and design methodologies to monitor and analyse carbon fluxes. Over time, the peatlands are expected to store more carbon and also support multiple ecosystem service benefits.
A Just Transition Accelerator programme that will focus on low-carbon and circular economies to support the midlands region economically. It intends to provide a range of services for the development of new sustainable products, services, enterprises and value chains.
An immersive People's Discovery Attraction in the midlands that will be designed to introduce the importance of climate action and peatlands to citizens. Its long-term aim is to progress with the establishment of an educational space that cultivates curiosity and climate literacy, providing a forum for dialogue and discovery.
Announcing the project, Minister for the Environment, Climate and Communications, Eamon Ryan, TD said:
"Our peatlands are a precious resource in terms of storing carbon, restoring biodiversity and supporting local communities in new jobs taking care of our environment. I am delighted to welcome another major project just months after we announced Government support for the rehabilitation of a huge tract of Bord na Móna peatlands. The Peatlands Centre of Excellence, Just Transition Accelerator, and the new Discovery Attraction supported by this EU LIFE project put the spotlight and investment where it should be – on peatlands and people."
Minister for Heritage and Electoral Reform, Malcolm Noonan, TD said:
"The restoration and rehabilitation of Ireland's peatlands is a critically important aspect of our response to the climate and biodiversity emergency. When healthy, these unique and precious habitats are home to some of our most threatened species, and are among our best lines of defence against climate change – sequestering and storing carbon, reducing the impact of floods and filtering water.
They are also places where people can experience the wonder of nature and nourish the deep connections that inspire us to protect it. I am proud that the Department of Housing, Local Government and Heritage will be an active partner in the Peatlands and People project, which closely aligns with Ireland's national biodiversity objectives and will build on the extensive work the National Parks and Wildlife Service has undertaken to date to rehabilitate and restore these extraordinary habitats."
Bord na Móna Chief Executive, Tom Donnellan said:
"I warmly welcome this significant funding from the European Commission for this project that will contribute towards the implementation of Ireland's Climate Action Plan. Bord na Móna is taking a lead role in this as we are now focused on reducing greenhouse gas emissions and enhancing carbon-storage potential through best practice restoration and rehabilitation of peatlands.
I am particularly pleased that the project recognises that climate action doesn't happen in isolation, it will require a new awareness and behaviour change across society. We have been through this fundamental change and I think we can show that you can achieve business growth and place a new value on the environment that sustains all of us."
The project partners plan to hold a stakeholder engagement day to explore the details of the EU LIFE IP Peatlands and People project when current Covid-19 restrictions ease.
More information about the project can be found on the Peatlands and People website.
_______________________________________________
This project has received funding from the European Union's LIFE Programme under grant agreement No. LIFE19 IPC/IE/000007 (LIFE IP Peatlands and People). This output reflects only the author's view and the Executive Agency for Small and Medium-sized Enterprises (EASME) cannot be held responsible for any use that may be made of the information contained therein.