The tangible transformation of Bord na Móna to a Climate Solutions company is evidenced by the fact that 92% of all CapEx allocated in the financial year is deemed to be Taxonomy Eligible.
The EU taxonomy Regulation, which came into force on 12 July 2020, created the world's first 'green list', a classification system for sustainable economic activities, establishing a common language for investors, companies and other stakeholders when assessing whether goods, services or infrastructural projects deliver a substantial positive impact for the climate and wider environment.
In June 2021 the EU Commission adopted the Climate Delegated Act establishing the criteria that define which activities substantially contribute to the 'environmental objectives' of Climate Mitigation and Climate Adaptation.   An 'economic activity' qualifies as Taxonomy-Eligible if listed in either Annex I or II of the Delegated Act and must meet the appropriate Technical Screening Criteria, do no significant harm to other environmental objectives and be in compliance with minimum social safeguards to qualify as Taxonomy-Aligned.
For reporting in 2022, the EU Taxonomy Regulation, and in particular the Delegated Regulation (EU) 2021/2178 enacted in July 2021, requires Key Performance Indicators (KPIs) to be disclosed relating to percentage of Capital Expenditure, Revenue and Operational Expenditure associated with Taxonomy- Eligible and Non-Eligible economic activities.  Bord na Móna is reporting these KPIs on a consolidated basis (thus avoiding any double counting) using the company's existing financial systems.  It must be noted that the categorisation of Bord na Móna's economic activities and the associated data does not perfectly overlap with the classifications listed in the Taxonomy legislation; Bord na Móna has therefore adapted a prudent and 'reasonable endeavours' approach in determining and reporting of the KPIs.  In addition, as this is the first year of reporting, and accepting that the Taxonomy legislation is still evolving, the reported KPIs are best estimates and the calculation methodology employed may itself evolve over time.
Capital Expenditure KPI
The tangible transformation of Bord na Móna to a Climate Solutions company is evidenced by the fact that 92% of all CapEx allocated in the financial year is deemed to be Taxonomy Eligible. The numerator used in the calculation contained CapEx associated with the construction of renewable and low carbon electricity assets as well as plant & equipment deployed in Bord na Móna's Recycling business.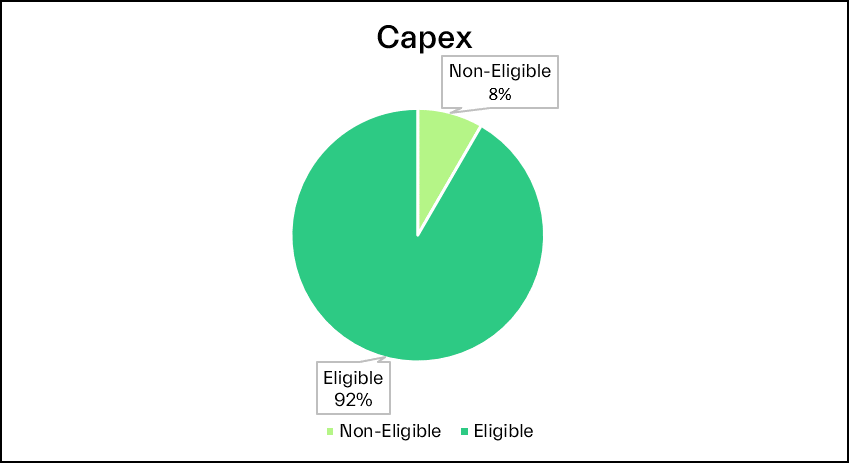 Operational Expenditure KPI
OpEx for the purposes of the Taxonomy Regulation is defined as non-capitalised costs that relate to research & development, building renovation measures, short-term leases, maintenance and repair, and any other direct expenditures relating to the day-to-day servicing of assets of property, plant and equipment.  Bord na Móna estimate 68% of the group's spend on operational expenditure can be classified as Taxonomy Eligible.  The Taxonomy Eligible spend arises from maintenance of renewable energy assets and non-hazard waste collection and recovery equipment; while the maintenance of plant and equipment associated with Consumer Products and thermal generation stations was deemed non-eligible.

Revenue / Turnover KPI
At a consolidated level, Bord na Móna is reporting that 57% of Revenue can be attributed to Taxonomy Eligible activities.  These Eligible revenues flow primarily from the sale of renewable electricity and the provision of non-hazardous waste collection and recovery activities.  Revenues from Consumer Products were in the main deemed to be Taxonomy Non-Eligible.
As mentioned, the Taxonomy Turnover calculated was carried out at group level, and the accounting convention adapted resulted in certain 'below the line' revenues being excluded from both the numerator and denominator.  These 'below the line' revenues were generated from activities which in their own right are Taxonomy Eligible, including shared profits in Renewable Energy projects, and peatlands rehabilitation. If these 'below the line' revenues, together with other future 'circular economy' activities are included, the eligible taxonomy revenue, labelled  as Revenue* in the graphic below, is estimated at 71%. 

In addition, Bord na Móna has also calculated the company's Taxonomy Eligible EBITDA, as a percentage of total EBITDA, at 74%.  While Taxonomy Eligible EBITA is not a required KPI under the Regulation, it is nonetheless an informative metric and provides further financial insight into Bord na Móna's Taxonomy Eligible performance.
| | | |
| --- | --- | --- |
| Taxonomy KPI | Taxonomy Eligible | Taxonomy Non-Eligible |
| CapEx | 92% | 8% |
| OpEX | 68% | 32% |
| Revenue | 57% | 43% |
Table 1– Taxonomy KPIs for Bord na Móna plc