Lough Boora Visitor Centre Celebrates 2nd Birthday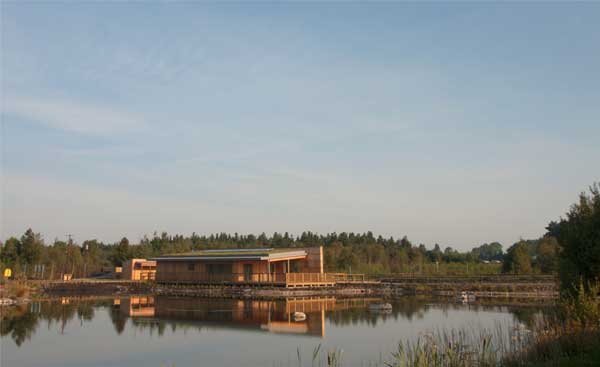 This week, Lough Boora Discovery Park's visitor centre celebrated its 2nd birthday. The opening of the visitor centre was a key moment in the development of the Discovery Park, giving a fresh sense of arrival to the park. The centre has proved to be a fantastic addition, having been used for numerous functions, events and exhibitions. It also serves as a valuable information point for visitors, as well as being a home to CaToCa Fine Food & Giftware. On a typical day, the place is a bustle with people planning their route through the park, grabbing some food, or taking a well-earned rest after a day of exploration and discovery.
The facility provides visitors with a reception desk area for information, toilets and café with indoor and outdoor seating. Outside there is a timber deck area with seating and shelter, overlooking one of the lakes, Loch an Dochas. The building, car park and recreation areas incorporate wheelchair accessibility at the centre of their design. Visitors to Lough Boora Discovery Park can access the visitor centre from April to late September.
EcoBuild
The architectural objective during the build was to preserve and enhance the visual environment of the park. The visitor centre and adjoining bike hire building were designed and constructed with a focus on incorporating sustainable building materials and practices. All concrete poured for the foundations of the bike hire building and visitor centre used partial cement replacement, a waste product of the steel industry. Using it in the mix diverted the material from landfill and reduced the carbon footprint of the build when compared to using a mix solely consisting of Ordinary Portland Cement.
The building's carbon footprint is further reduced through the use of Photovoltaic panels, sometimes known as PV solar panels. Installed on the roof these panels provide power to the building. Power produced by the panels is approx. 4.0kW in suitable weather conditions accounting for 15% of the building's peak energy demand. As well as supporting solar panels the roof is 'Green' in that it is covered in a blanket of soil which supports a specially selected species of grass.
Since it's opening in 2014, the building has been a huge success. Staff and management have received very positive feedback and the facility is a great source of pride to all involved. For more more information on Bord na Móna's Lough Boora Discovery Park visit the website.