Minister Simon Harris announces Bord na Móna 'Pathways to the Future' programme
Bord na Móna 'Pathways to the Future' programme has been announced by Minister for Further and Higher Education, Research, Innovation and Science, Simon Harris TD. The programme is comprised of three pathways:  a Scholarship Pathway, a Graduate Pathway, and an Apprenticeship Pathway. These pathways offer different choices, educational support and career development opportunities to a broad range of people.  All pathways provide opportunities to work on the front line of climate action and sustainable economic development.
The programme is accepting applications for roles aligned to Bord na Móna's climate solutions focus such as sustainability and renewable energy alongside other areas including finance, legal, business, engineering and IT.
Launching the programme, Minister Harris said: "I really want to congratulate Bord na Móna for its leadership in this area. This is such an exciting time in the evolution of Bord na Móna to a climate solutions company, which is showing the way in innovations to tackle climate change. Being part of this is a fantastic opportunity for people.
"I particularly welcome the commitment to employ such a variety of apprentices. We have a commitment to deliver a Government Apprenticeship Recruitment Plan and I would see Bord na Móna's work feeding into that. Public Sector organisations can and should play a key part in the Plan and so I very much welcome the excellent example being shown by Bord na Móna. Apprenticeships offer valuable employment and training routes which should be part of everyone's deliberations when they are finishing school or considering other career or re-skilling options."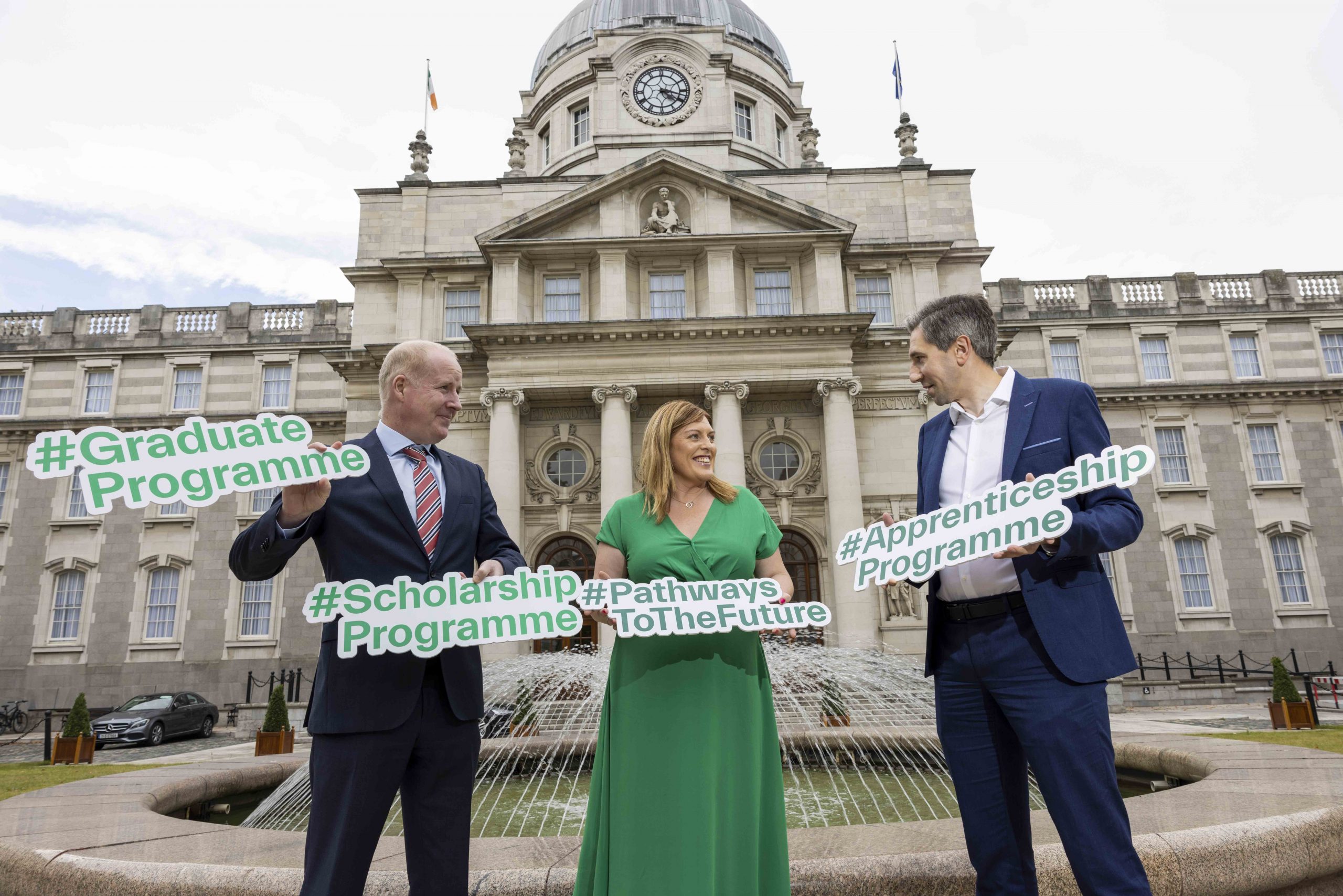 Welcoming the programme, Tom Donnellan, Chief Executive of Bord na Móna said, "The 'Pathways to the Future' programme is a great opportunity for apprentices, graduates and students to get hands-on, valuable experience with Ireland's leading climate solutions company.
This is a unique programme that provides three pathways for those wanting to become part of the solution to climate change. These programmes aim to encourage a new generation of ambitious, creative and future-focused women and men to develop their career within a progressive company and to help them inspire change and meet Ireland's climate goals."
Sharon Doyle, Head of Human Resources at Bord na Móna said, "Bord na Móna is passionate about helping and supporting people starting their careers. We recognise the value of apprenticeships and our graduate programme as ways of developing a range of critical skills and attracting diverse talent into our business. Our Graduate programme will enable students to proactively tackle the key issues linked to climate change. Participants can also expect to learn a wide range of skills alongside the very best experts our industry has to offer.
Our Apprenticeship Programme, offers a great alternative to the traditional third level route, for people who wish to gain valuable knowledge and skills on-the-job while being paid throughout. We believe these programmes will provide talent pipelines for the future, with people who are passionate about building a sustainable future for everyone. We look forward to welcoming the latest graduates and apprentices to our teams and embracing their experiences and thoughts on climate solutions in the 21st century. We encourage any interested candidates to apply to the pathways that we have available."
Chief Executive of Laois and Offaly Education and Training Board, Joe Cunningham, welcomed the opportunity offered by the 'Pathways to the Future' initiative to enhance LOETB's progressive partnership with Bord na Móna in skills development. "Bord na Móna have been an integral partner in craft apprenticeships for half a century, providing work-based learning to midland apprentices that complimented their academic endeavours and produced professional craftspeople with skillsets that were relevant to the labour market. A large proportion of Bord na Móna's skilled workforce has traditionally progressed through the apprenticeship route. I welcome the company's foresight in embracing the much more diverse range of apprenticeships currently on offer through Generation Apprenticeship and in providing a pathway that assists in overcoming barriers to educational progression and offers sustainable employment opportunities."
Representatives from Bord na Móna 'Pathways to the Future' will be at career fairs across the island of Ireland, including the Gradireland Graduate Careers Fair on the 28th of September.
Graduate Pathway
Bord na Móna's Graduate Pathway is a two-year programme that will take applications in September 2022 (for the academic year commencing in Autumn 2023). Bord na Móna aims to develop and support a new generation of ambitious, creative and future focused professionals to progress their careers in areas aligned to Bord na Móna climate solutions focus on sustainability, climate targets, renewable energy and carbon storage. Bord na Móna will support further educational development through the 70:20:10 learning model (70% of knowledge comes from challenging experiences and assignments, 20% from developmental relationships, and 10% from coursework and training).
This Pathway is offering 21 graduates a career to contribute towards Ireland's greener future.
Applicants for the Graduate Pathway will undertake an application process and those with commercial acumen, ambition and excellent communication and teamwork skills are encouraged to apply.
Scholarship Pathway
The Bord na Móna Scholarship Pathway will have places for ten students in third level education across Ireland. The cost of studies and student life can be a barrier for potential students so Bord na Móna, has created a support fund that provides financial support for access to studies through scholarships. Eligible candidates must be enrolled in undergraduate studies (level 8), masters or doctoral studies. The scholarship includes a monetary grant, work placement opportunity, site visits to Bord na Móna projects and a Bord na Móna assigned mentor. To apply, candidates must submit a business case on sustainability and a personal statement.
Apprenticeship Pathway
In partnership with the Laois and Offaly Education and Training Board (LOETB) and SOLAS, the Bord na Móna Apprenticeship Pathway is offering 30 apprenticeships beginning in September 2022. Apprenticeships are available for those seeking to become qualified in areas such as transport operations, mechanics, wind turbine maintenance and automation.
This Pathway will be delivered through alternating blocks of centre-based and work-based training. Apprentices will integrate the knowledge and skills gained in the training setting with those acquired in the workplace, developing a full competence in the roles.