Stars Turn out for Launch of 2016 Bord na Móna Leinster GAA Series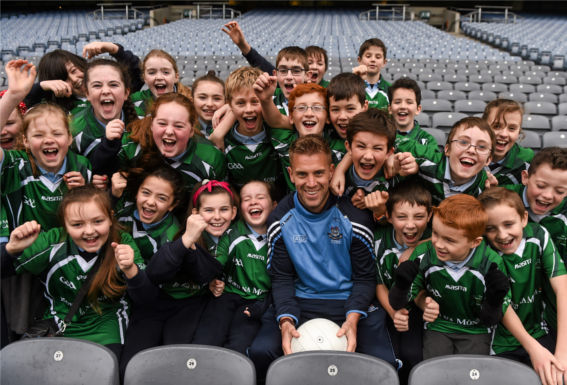 Members of All-Ireland winning teams Jonny Cooper (Dublin) and Padraig Walsh (Kilkenny) were in attendance for the launch of the 2016 Bord na Móna Leinster GAA Series at Croke Park yesterday.
The battle for the O'Byrne Cup in football and Walsh and Kehoe Cups in hurling will again dominate the New Year calendar as inter-county action makes its long awaited return.
Last year Jim Gavin's Dublin footballers used the Bord na Móna O'Byrne Cup to launch a spectacular run of form that saw them go on to also win the league, Leinster Championship and All-Ireland crowns.
Following a positive response from supporters it has been decided to maintain the new format for the Bord na Móna O'Byrne Cup which will see 16 teams including College team divided into groups of four with matches also being played on Wednesday nights under lights to reach semi-final stages.
In hurling, Galway defeated Dublin in a high quality Bord na Móna Walsh Cup decider at Croke Park last January. And Croke Park will again host the Bord na Móna Walsh Cup decider in 2016 with the final fixed for Saturday January 31 – as a curtain raiser to the football league clash between Dublin and Kerry.
Meath have won the Bord na Móna Kehoe Cup for the last two years running and it is seen as a competition that is crucial for counties looking to bridge a gap in their hurling fortunes.
Senior officials from Bord na Móna and Leinster GAA were in attendance at Croke Park for the la8ucnh and were joined by players and coaches from several counties taking part in the 2016 Bord na Móna Leinster GAA Series.
Speaking on behalf of Bord na Móna, Pat Fitzgerald, who was a part of the great Offaly All-Ireland winning team of 1982, said: "We are once again delighted to be title sponsors of the Bord na Móna O'Byrne Cup, Bord na Móna Walsh Cup, and the Bord na Móna Kehoe Cup.
"This sponsorship began in 2012 and saw us as the first title sponsor in the competitions 60 year history and continues our strong association with the GAA.
"Bord na Móna has a long-standing presence and involvement with the people of Leinster in every community and county through our employees and customers. We live in these communities, we work in these communities and we are deeply invested in creating the brightest possible future that we possibly can.
"Support of these competitions is a natural fit for our organisation and I would like to thank Leinster GAA for all of their support and engagement which has continued right through to 2016.
Leinster GAA Chairman John Horan said: "We are delighted to be here to launch the 2016 Bord na Móna Leinster GAA Series for 2016.
"Since the inter county season went to a calendar year it has been very obvious how teams that make a strong start are able to put down a marker for success later in the year.
"Our Bord na Móna Leinster GAA Series has proven to be a big hit with supporters who are starved of inter county activity from October to December and who relish the prospect of coming out to see their teams and look for signs of hope for the year ahead and new faces who they can follow.
"It was in the Bord na Móna O'Byrne Cup that Brian Fenton showed glimpses of what was tin store for Dublin and he would go on to command a starting midfield place and be crowned man of the match in the All-Ireland final.
"We look forward to great games and more great players emerging and I thank Bord na Móna for their support."