Teachers, parents and children encouraged to re-connect with nature through Eco Rangers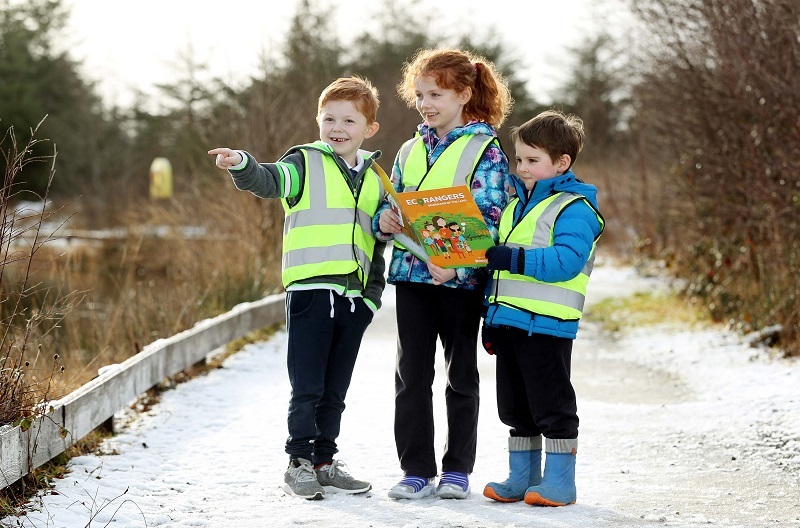 Over 600 Schools across Ireland are taking part already and creating their very own Eco Safari. Bord na Móna are looking to double that number in 2018 and are calling for more schools and families to get involved, take part in a nature walk and publish it on our site.
Are your kids struggling to identify a Puffin but can name all the Pokemon? Able to spot a minion but not a magpie? Willing to explore with Dora through a screen without stepping outside your front door? Well not anymore as Bord na Móna is today calling for more schools, more teachers and more school-kids to get involved in Eco Rangers, a primary schools programme which attempts to overcome the growing nature deficit amongst children by re-connecting them with nature in a fun and interactive way.
Speaking at the launch of Eco Rangers for 2018, Sara Byrne, Bord na Móna said: "Unfortunately, more and more we are seeing young kids spending too much time on Ipads and Playstations. All research indicates that direct exposure to nature is essential for healthy childhood development and for the physical and emotional health and wellbeing of children. Our schools programme, Eco Rangers, aims to address just that, and with over 600 schools signed up across the Country, we are calling for more schools to get involved. While the emphasis is on schools to participate, the programme can also be used by the children with their families in their local communities around Ireland. Families can log on to www.ecorangers.ie and take a look at the many eco safaris that have already been uploaded to the site."
What is Eco Rangers? – Eco Rangers is a programme by Bord na Móna which sets out to reconnect children with nature and learn about biodiversity through a series of educational and fun elements. Teachers are provided with all the tools they need such as teachers' packs, lesson plans and games.
How does it address the growing nature deficit amongst children? It enables classes to embark on Eco Safaris, nature walks, where they can map out nature trails, look at and investigate flora and fauna, take photos or draw pictures and document what they see. Children are encouraged to creatively connect with nature, with each school developing their own bespoke nature table.
How can a class upload an Eco Safari so other people can use it? Once a teacher has registered for the programme, each teacher will get a personalised log in for our site where they can upload all the information gathered from the nature walk to create an online gallery.
Sara Byrne continued: "Young kids that learn and play outside get direct experience of weather, the seasons, wildlife, flora and fauna – things that are only possible outdoors – and they get to assess risks, solve problems and develop creativity. The benefits may seem obvious, but in reality many children don't get to be outdoors in a natural environment in any regular or meaningful way. Eco Rangers addresses this and is suitable for all primary school classes from junior infants through to sixth class.