Unique conference highlights the commercial opportunities of sustainability and showcases Ireland's brightest green start-ups
Bord na Móna's new National Conference Ireland's Sustainable Future showcased the progress of eight of Ireland's most promising start-ups who participated in the Accelerate Green programme. The event, took place in the Tullamore Court Hotel on June 9th and featured discussions from key environmental officers from diverse public and corporate bodies.
Accelerate Green is the first climate-focused scaling accelerator in Ireland. Set up in late 2021 by Bord na Móna who sought to enable Irish companies in the climate and sustainability sector to provide a programme of ambition, scaling skills and building a powerful network of companies who could deliver on the opportunities that are positively impacting the climate agenda.
Designed and delivered by Resolve Partners on behalf of Bord na Móna, the first Accelerate Green programme culminates with the National Conference, Ireland's Sustainable Future to assess how our Economic, Technological, and Financial Systems are working to deliver a sustainable future for us all. Bord na Móna engaged Native Events, Ireland's leading sustainable event consultancy, to advise on and deliver impact reduction strategies for the conference.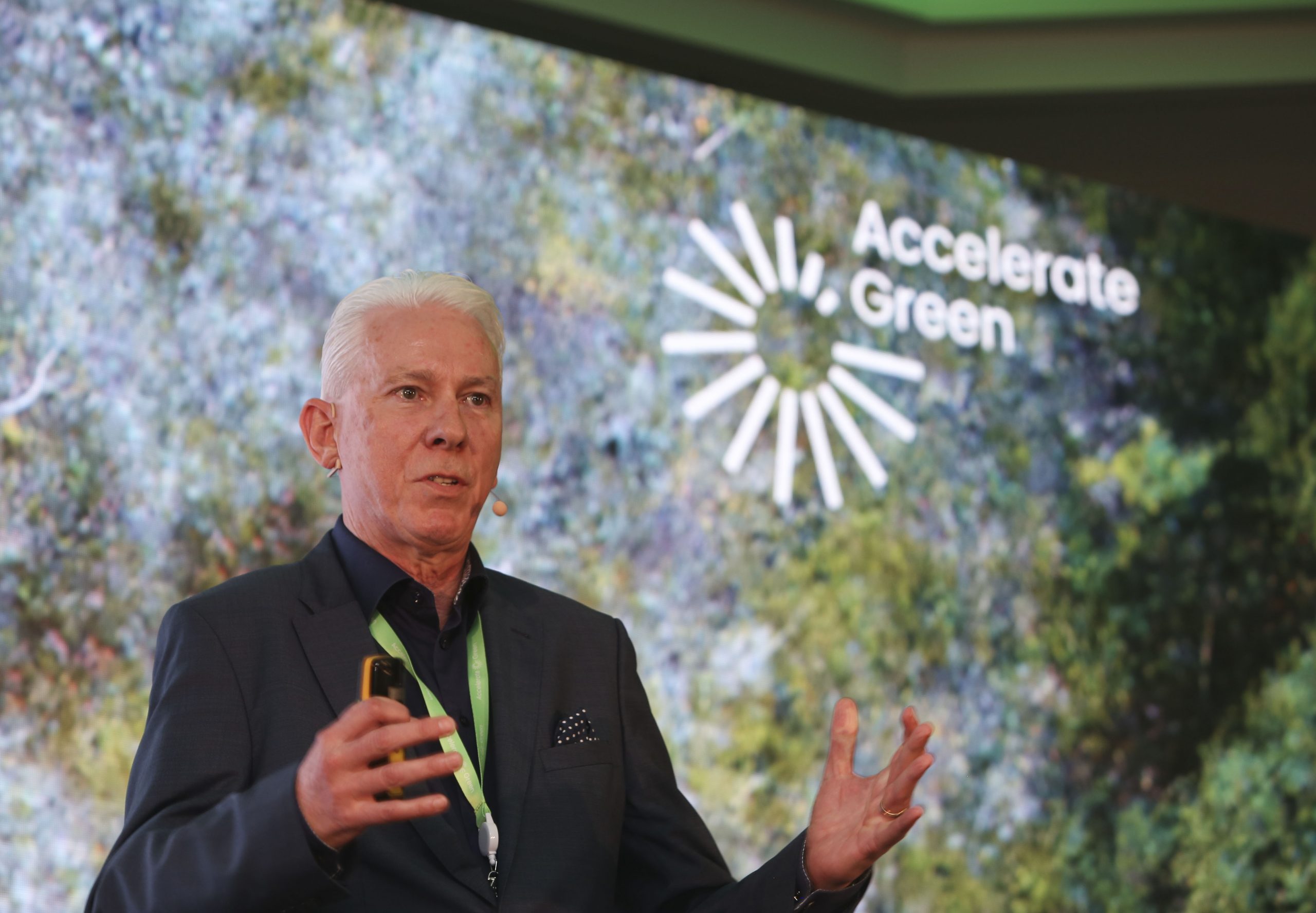 CEO of Bord na Móna, Tom Donnellan, looks forward to celebrating the progress this year's cohort of companies have made while focusing on the big picture in the climate battle and shift towards sustainable solutions: "Bord na Móna's sustainability journey shows that being commercially successful and having a sustainable, climate focused business model are mutually supportive, complimentary objectives. It is really important for Bord na Móna to tell the story of our own journey and to enable other sustainable businesses to also scale and grow. We are delighted to showcase the first cohort of companies to complete our Accelerate Green accelerator programme at this conference.These companies are leading the way in climate change innovation and I hope you will be as inspired by their ambition and drive for change as I am."
Faye Walsh Drouillard of WakeUp Capital, added "Investing in technologies and businesses who focus on climate action, sustainability and measuring and delivering the positive impact that they are having on their customers and supply chains is becoming much more important and core to the venture investors' mindset.  Investment funds and their investors are in turn paying serious attention to these issues, therefore the work Accelerate Green's programme delivers is greatly needed." 
The Accelerate Green programme is designed to support early-stage scaling companies developing products and services based on green innovation. It is being delivered by Resolve Partners and funded by Bord na Móna. The programme is designed to help businesses scale their companies.
The programme includes a series of deep learning and mentoring sessions, access to speakers from enterprise and energy agencies, Irish corporates, research networks, investors and successful business leaders.
The eight start-ups that seek to adopt sustainable business practices upon completion of the 2022 Accelerate Green Programme include;
Positive Carbon – A 2021 Awardee of Social Entrepreneurs Ireland's prestigious Impact Programme, Positive Carbon helps restaurants, cafes and facilities reduce their food waste across all their sites and locations using their technology.
Real Leaf Farm – Ireland's first 100% Hydroponic Farm. Real Leaf Farm's mission is to grow fresh, nutritious leafy greens for the local food market using sustainable hydroponic farming methods that have low environmental impact
EpiSensor – This platform makes it easier than ever to collect data, so people can make better decisions, reduce costs and improve sustainability. Data produced by EpiSensor can transform the efficiency of an organisation by providing insight into areas of waste that could not be achieved using traditional monitoring, control and automation system
CameraMatics – CameraMatics helps companies that operate a mobile workforce and fleets of vehicles to automate Safety, Performance and Sustainability. It uses AI camera technology, Sensor technologies, telematics and vehicle engine data to provide real-time accident prevention, empowering drivers to improve driving standards and operational efficiencies and ultimately reduce their carbon footprint.
Jones Celtic BioEnergy – Since 2017, JCBE has focused its attention on the demonstration of a unique waste treatment technology that has the capacity to transform the emerging biomethane industry. It provides a complete solution for the generation of renewable energy from biodegradable sources, such as municipal waste, food waste, agricultural waste and biomass. Jones Celtic BioEnergy offers unparalleled delivery of a range of BioEnergy technologies which are modelled and tailored to the specific requirements of its clients.
Go Eve – Revolutionising EV Charging Points, Go Eve 'Dock Chain' system allows multiple parking spaces to be charged from one power source. Dock Chain makes rapid DC charging possible for all parking spaces at little more than the cost of slow AC charging.
AutomSoft – Automsoft's technology is used in over 1,000 sites globally and delivers value by providing accurate power generation data and reducing O&M costs through real-time equipment monitoring, prediction of equipment failures and warranty management. It provides leading-edge data management technology to monitor, manage and maintain renewable energy generation and micro-grid installations.
Borrisoleigh Bottling – Initially a producer of traditional PET and Glass products, before significantly extending its product range with more sustainable options.  Its core product is bottled water, sourced from its on-site well that has been the winner of numerous Gold medal awards for excellence over the years and was Ireland's first certified Natural Mineral Water source. Borrisoleigh Bottling is now shipping this primarily in glass bottles and carton packaging and, over the past 2 years, it has been proactively ramping down its PET usage.
Bord na Móna's own green revolution will be discussed at the upcoming event, the four key elements being:
Provide Ireland with sustainable energy from renewable sources at scale
Effectively rehabilitate our peatlands
Deliver world-class waste and resource recovery solutions
Help Ireland reimagine how it engages with climate action
Bord na Móna is spearheading its role in aiding Ireland to become carbon neutral by 2050. The body has taken its own drastic actions to aid in the fight against climate change, including; shutting down all peat bogs, going zero plastic, minimising carbon and food waste and hiring a sustainability consultant.
The body has restored a total of 19,700 hectares of bog to peat-forming conditions, with a goal to restore over 73,000 hectares in total. The rehabilitation of bogs seeks to create new possibilities for biodiversity, renewable energy and public enjoyment. The restoration of bogs to their natural state transforms them into powerful carbon sinks, permitting carbon sequestration.
The Bord na Móna Conference commited to taking urgent climate action using the UN Sustainability Development Goals (SDG's) as guiding principles to ensure that this year's Accelerate Green Conference is eco-friendly. One tactic provided was the 'SUSTAINTRAIN', a dedicated train carriage to the conference available to attendees travelling from Dublin, aiming to reduce the number of single occupancy vehicles travelling to the event.
Bord na Móna gathered some of the most authoritative voices on climate and sustainability at the Accelerate Green Conference, including the following speakers:
Pippa Hackett, Minister of State for Land Use and Biodiversity
Tom Donnellan – CEO of Bord na Móna
Marie C. Donnelly – Chairperson of the Climate Change Advisory Council
Nick Ashmore – Director, Ireland Strategic Investment Fund
Laura Burke – Director General, Environmental Protection Agency of Ireland
Mark Foley – CEO, EirGrid
Andrea Carroll – Group Head of Sustainability, DAA
Mark Mellet – Founder at Green Compass
Lisa Higgins – Head of Challenge Research, Education & Public Engagement at SFI
Peter J. Nieuwenhuizen – Founding Partner ECBF
Mary Rose Burke – CEO of Dublin Chamber
Barry McDermott – Group Head of Sustainability at PM Group
Yvonne Holmes – Chief Sustainability Officer at AIB