100 million tonne carbon store secured under major Peatland Restoration Plan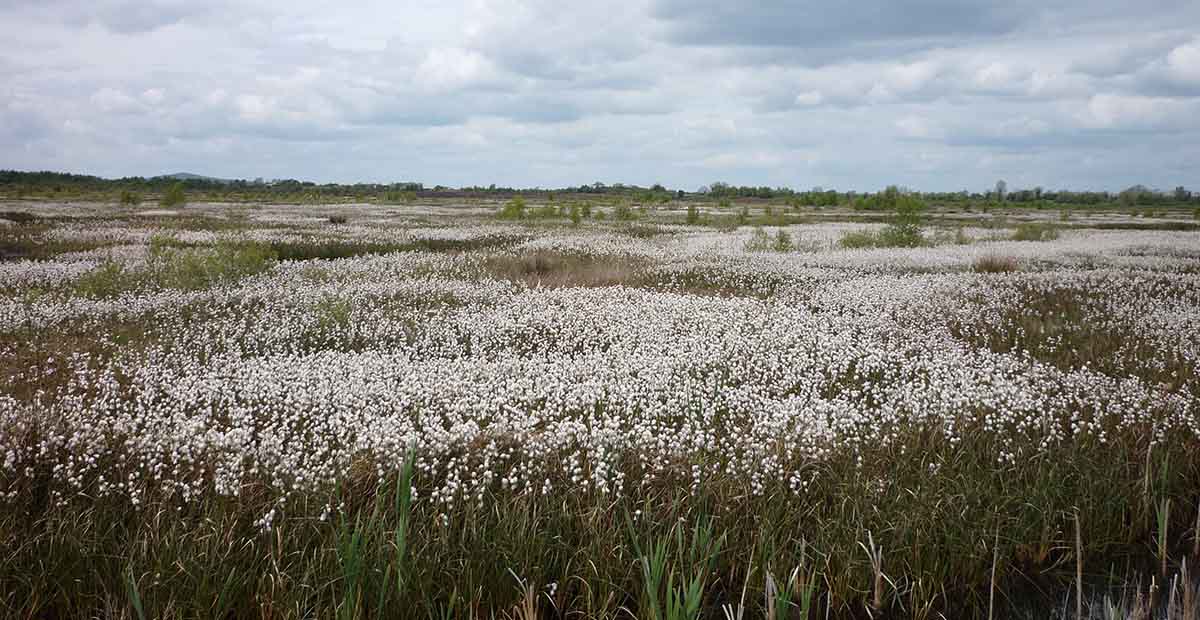 Bord na Móna has today launched a Peatland Restoration Plan of international significance on its land in Ireland.
The plan will harness the natural power of peatlands to secure a store of over 100m tonnes of carbon in perpetuity and capture millions of tonnes more in the coming years.
The announcement underscores the company's leading role in helping deliver a carbon-neutral country by 2050.
The plan was launched as the Government committed up to €108m of new climate action funding in addition to €18million from Bord na Móna for peatland restoration and rehabilitation measures. The announcement means peatlands restoration on company and third party lands is now a core business activity for Bord na Móna.
Announcing the funding – Minister for the Environment, Climate and Communications Eamon Ryan, TD said:
"I am delighted that we are providing more than €100m in funding for this milestone project. Bog rehabilitation and remediation is a wonderful example of Just Transition in action, where workers who previously harvested peat for power generation will now be the custodians of our bogs.
This project will turn carbon sources into sinks, restore biodiversity and help us meet our climate goals. Employing 350 people, it will also be a pilot project for the just transition we need to make as we adapt our society and economy to tackle climate change.
It is also a clear demonstration of the exciting new direction Bord na Móna is taking and an endorsement by government of the company's Brown to Green strategy. It's also an investment in the workforce of Bord Na Móna and the midlands area itself where Bord na Móna are an inherent part of the regions fabric. I would also like to take this opportunity to thank Minister of State, Malcolm Noonan in the Department of Housing, Local Government and Heritage for his Department's support in developing the scheme and I welcome the involvement of our National Parks and Wildlife Service in this exciting project."

Bord na Móna Chief Executive, Tom Donnellan said:
"This is a major win for Ireland's progress on Climate Action. Peatlands only cover 3% of the Earth's surface but hold 30% of all the carbon stored on land. They have a unique natural power to capture carbon and deliver significant wins for us and for future generations. Bord na Móna's new Peatlands Restoration Plan will work with nature to make this happen and will demonstrate its leadership role in climate action, delivering on government policy and national decarbonisation objectives. 
This significant investment in the restoration and rehabilitation of peatlands will quickly yield a range of rich benefits for society. Where once peat was harvested, Bord na Móna will now take meaningful action to keep over one hundred million tonnes of carbon in the ground, capture millions more tonnes of carbon from the atmosphere, and create rich and diverse habitats for our native plant and animal species. We believe there are huge opportunities for everyone in society as we deal with the climate emergency and we are looking forward to sharing the benefits of this process with people across Ireland."
Maximising the carbon capture and storage potential of peatlands is a central part of Bord na Móna's efforts to help Ireland address the climate and biodiversity emergencies. The peatlands restoration and rehabilitation works will:
Immediately focus on 80,000 acres/ 33,000ha of Bord na Móna bogs
Protect the 109m tonne carbon store in these bogs as well as avoid and sequester a further 3.2m tonnes of GHG emissions
Recreate native habitats, rich in biodiversity and cultural significance
Reverse the fragmentation of other habitats and the loss of biodiversity corridors within the wider landscape
Sequester carbon in peatlands in perpetuity
Protect and enhance water quality and associated aquatic ecosystems
Provide attractive amenities, to promote health and well-being and opportunities for outdoor learning amongst local communities
Enhance air quality
Sustain 350 roles in operations, engineering and ecology in restoration operations working on Bord na Móna and third-party peatlands.
Create walking tracks, trails and other amenities where appropriate
Continue work started in June with full-scale operations commencing from April 2021
The initiative will address another critical area of national policy by boosting biodiversity across the country. Restoration measures on raised bogs usually involve raising water levels close to the bog surface to help restore peat-forming conditions and encourage the natural development of Sphagnum mosses which are the building blocks of peat.  Peat bogs are unique ecosystems teeming with wildlife. The microscopic plant and animal life living in Sphagnum mosses provide food for all other organisms living in the wet bog. The rehabilitation plans will ultimately create a rich mosaic landscape of living bogs as well as some native woodlands, open water and grasslands. Bord na Móna is examining the appropriate amenity potential for a number of the bogs.
The new operations will immediately create 310 operational, engineering and technical jobs. Most of the new roles will be taken up by employees who were until recently employed in peat harvesting activities. Bord na Móna is already rehabilitating peatlands beyond its own landholding for the National Parks and Wildlife Service and intends to expand these operations on third party lands in the coming decade.  Last year the Government approved Climate Action funding for the restoration of other peatlands in Ireland. The announcement demonstrates the business opportunities for the company as it takes a new leadership role on climate action.
The launch of the new peatlands plan follows Bord na Móna's recently announced plans to raise €1.6billion in market funding for its renewable energy development programme. This accelerated development programme will enable the company to supply approximately one third of all Irish homes with renewable energy by 2030. The renewable energy and peatlands restoration announcements are part of Bord na Móna's strategy to take a leadership role in climate action in Ireland. Over 80% of the company's 1400 people are now employed in green business operations with this set to rise further.