Biodiversity Action Plan Review 2017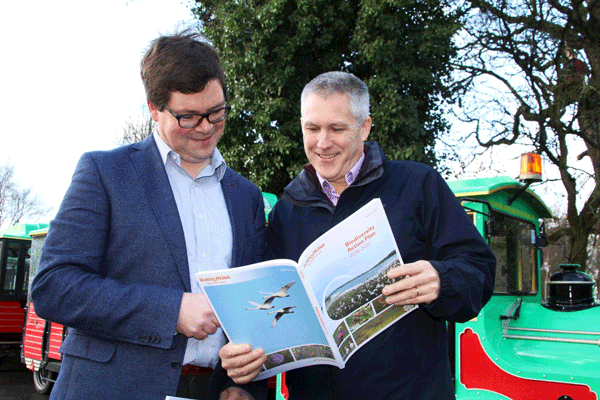 The first review of Bord na Móna's Biodiversity Action Plan 2016-2021 took place today Lullymore Heritage Park, Kildare. It highlights the excellent progress that was made throughout 2016, and the ongoing commitment of the company to the current plan. This plan explains why biodiversity is important to Bord na Móna and how it intends to build on the wealth of peatland management, rehabilitation, restoration and conservation that it has built up since its establishment in the 1940s.
Opening the conference, Bord na Móna's Joe Lane said: "2016 has been quite a significant year in terms of the work carried out by Bord na Móna. In April last year, we launched our second action plan and are committed to delivering every part of it. The work carried out over the course of the first plan, in Lough Boora Discovery Park and here in Lullymore Heritage Park, shows what a devoted number of people working together can achieve. It also demonstrates how a well-structured and planned rehabilitation programme can be applied to a cutaway area to provide a haven for use by local communities and for biodiversity, including flora, fauna, insects and wildlife."
The Bord na Móna Raised Bog Restoration Project was a point of discussion at the review. The main objective of this project is to restore raised bog habitats at several locations throughout the country, including Galway, Kildare, Laois, Longford, Mayo, Offaly, Roscommon, Tipperary and Westmeath.
Speaking at the review, Dr. Mark McCorry, Senior Ecologist at Bord na Móna, said: "Raised bogs are threatened habitats. They contain a wide range of different species, many of which are under pressure and dependent on habitats like raised bogs. The current restoration initiatives underway will aid Ireland to meet its biodiversity objectives including commitments under the EU Habitats Directive. To date, over 1,000ha of raised bog has been restored and Bord na Móna will continue re-wetting of other sites with a further 1,000ha of bog identified for future work."
Work on delivering the objectives of the 2nd plan is progressing well, with demonstrated achievements by the Ecology Team during 2016 including the completion of raised bog restoration work at Clonboley bog and the construction of 8,200 peat dams.
Concluding, Dr. McCorry said: "Bord na Móna is fully committed to progressing our bog restoration programme across our landholding and building on the successful initiatives taken to date. We expect to significantly increase our restoration activity in the coming years as outlined in our action plan."
The Bord na Móna Biodiversity Action Plan is available to view here.