Minister for Communications, Climate Action and Environment visits Bord na Móna's Mountlucas wind farm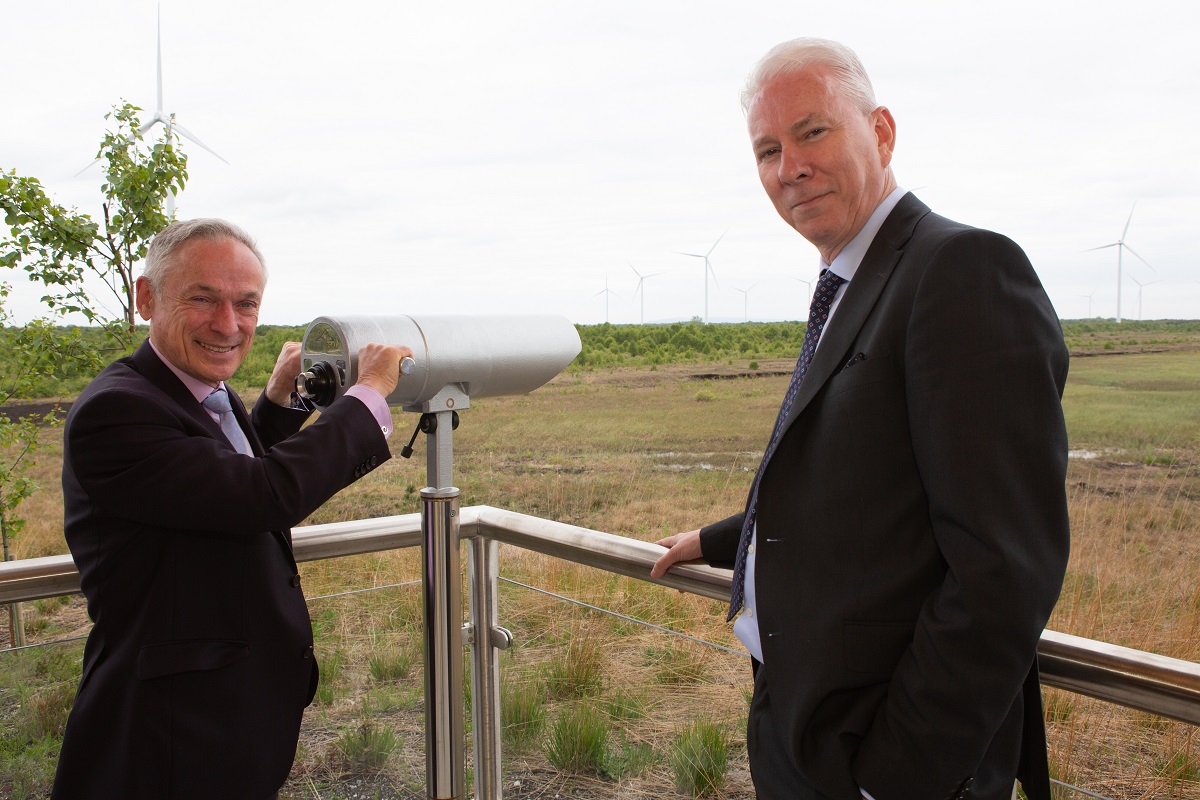 Mr. Richard Bruton TD Minister of Communications, Climate Action & Environment and Mr. Tom Donnellan CEO Bord na Mona at Mountlucas Wind Farm, Daingean, Co. Offaly when the minister visited for the new Renewable Energy
Facilities, Jobs and Education Fair.
The Minister for Communications, Climate Action and Environment, Richard Bruton T.D. visited Bord na Móna's Mountlucas wind farm and parkland amenity on Friday 17th May last.
The event was hosted by Bord na Móna Chief Executive, Tom Donnellan. The Minister toured some of the 1100-hectare site and received a briefing on Bord na Móna's strategy, including the company's plans for renewable energy production and the new business projects that support the company's decarbonisation programme.
While at Mountlucas Wind Farm, the Minister was given a tour of the Learning Hub facilities, including a virtual reality tour of the wind turbines. Commenting on the company's plans and proposals, the Minister said: "Bord na Móna is leading the way as we transition away from our reliance on carbon. They are taking the steps now which will ensure their longevity into the future, securing employment for the Midland region for years to come. Through the renewable energy projects we are here to see today, and those that are being developed, 75% of the energy being generated by Bord na Móna will be renewable by 2020 –  up from 10% in 2010."
The Minister also reviewed progress at the Aquamóna pilot-project for fish production, which is also located at the company's Mountlucas facility. Bord na Móna is undertaking this promising aquaculture project, in partnership with Bord Iascaigh Mhara, to test the viability of producing trout and perch for international markets. Minister Bruton was shown the facilities in development, which are also being powered by renewable energy from a wind turbine in Mountlucas.
Following the tour of the renewable energy and aquaculture facilities, the Minister's visit continued to the Mountlucas Jobs and Education Fair, organised by the Regional Transition Team. That event was one of a series organised to support workers from the region who are directly affected by Bord na Móna's accelerated programme of decarbonisation. The Minister was accompanied to Mountlucas by Marcella Corcoran Kennedy TD.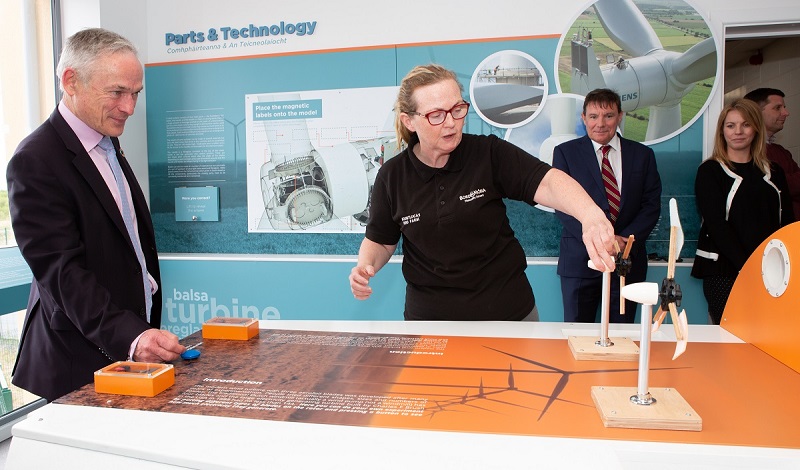 Catherine Swaine, Bord na Móna, explains the working of the wind turbines at Mountlucas Windfarm to Minister Bruton.[/caption]
Mountlucas Wind Farm capacity
Mountlucas Wind Farm, Co. Offaly is situated on a former peat production bog and is located on 1,100 hectares of peatlands near Daingean. The wind-farm was commissioned in 2014 and there are 28 turbines in operation in Mountlucas Wind Farm. These 3MW turbines have the capacity to generate 84MW of electricity, or enough power for over 45,000 homes. Mountlucas Wind Farm displaces 125,000 tonnes of greenhouse gases every year.
Mountlucas amenity
Bord na Móna has created a 10km public walkway-cycleway around the wind farm. The walkway-cycleway is accessible all year round (excluding Christmas) during daylight hours – free of charge.
Biodiversity has flourished since rehabilitation with many examples of flora and fauna to be found such as the rare round-leaved wintergreen. Birdlife includes swans, ducks, red grouse, pheasants, herons and many more. Mountlucas also hosts a Parkrun event every Saturday morning, which is highly popular with the local community.