Warming up for the new season with the Bord na Móna Leinster GAA Series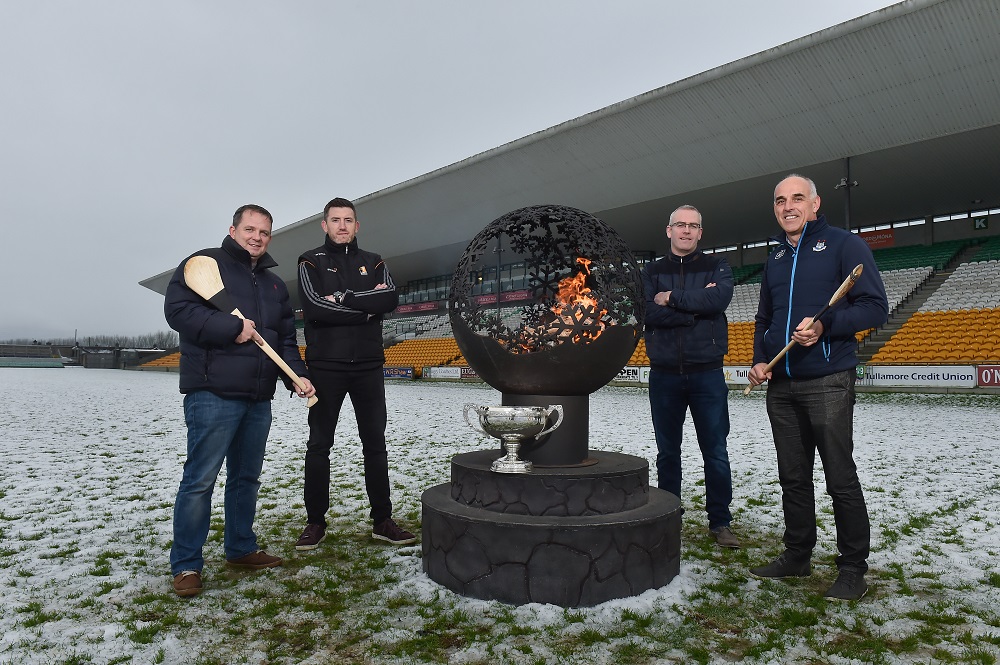 Players and Managers descended upon Bord na Móna O'Connor Park today to warm up for the new season with the launch of the Bord na Móna Leinster GAA series.
Wexford hurling manager Davy Fitzgerald, Dublin's Johnny Cooper and new hurling coach Anthony Cunningham were joined by a galaxy of star players from across the province as the focus begins to switch to the resumption of inter-county activity on December 30th this year.
2017 saw the Dublin footballers regain the Bord na Móna O'Byrne Cup with a victory over a spirited Louth team while the Walsh Cup hurling decider was also a keenly contested affair with Kilkenny out playing Galway in a Nolan Park decider.
Following a positive response from supporters it has been decided to maintain the format for the Bord na Móna O'Byrne Cup which will see teams divided into groups and with mid-week matches taking place to reach the semi-finals.
Leinster GAA Chairman Jim Bolger said: "We are delighted to continue our partnership with Bord na Móna and build upon the strong relationship we have built since 2012.
"They understand the importance of community and the work that we do to enable our clubs and members to be the best they can be.
"The  Bord na Móna O'Byrne Cup football trophy has been competed for since 1954 and the Tom Walsh Cup has existed since 1956. Between them they have played a crucial role in Leinster GAA as Accident Tournaments whereby the proceeds generated by attendances is used in a special fund that looks to benefit ordinary GAA people in Leinster who are in dire need of assistance.
"These are special competitions that have a crucial place in the calendar because in both codes they act as a vital dress rehearsal for the start of the national leagues and provide a warmly welcome outlet for supporters who have been starved of seeing their county play since the summer.
Speaking on behalf of Bord na Móna, Pauline Browne said: "We are delighted to be title sponsors of the Bord na Móna O'Byrne Cup, Bord na Móna Walsh Cup, and the Bord na Móna Kehoe Cup.
"Bord na Móna has a long-standing presence and involvement with the people of Leinster in every community and county through our employees and customers. We live in these communities, we work in these communities and we are deeply invested in creating the brightest possible future that we possibly can."
"This sponsorship began in 2012 and saw us become the first title sponsor in the competitions long history and continues our strong association with the GAA. The growth and success of our association in the last few years made it a natural decision to extend our relationship with Leinster GAA.
Full fixtures on leinstergaa.ie – The opening games are:
O'BYRNE CUP SF – Dec 30th
Group 1: Offaly v Wexford
Group 2: Louth v Longford
Group 3: Wicklow v Carlow
Group 4: Westmeath v Laois
WALSH CUP SH – Dec 30th 
Group 1: Carlow v Wicklow
Group 2: Kildare v Laois
Group 3: Meath v Antrim
Group 4: Offaly v Westmeath